ORC is pleased to announce that House of Robotic Destruction will be returning to ColossalCon, at Kalahari Resort & Indoor Water in Sandusky OH. ColossalCon features many events and actives that draw thousands of convention goers each year. They are promoting HORD as a feature event and we are expecting hundreds of spectators will be watching us, which makes this is a great opportunity to promo robotic combat so please help us by demonstrating good sportsmanship and good showmanship.
We will be running Fairy weight (150 gram), Ant weight (1 lb), Beetle weight (3 lbs) and Mantis weight (6lbs) tournaments. All registration will be handled via
Builder's database
. If your team is not registered, please do so. It is quick, easy, and free.

Registration fees for this event will be $10 per robot and must be paid by May 11th. Fees can be paid via paypal through the builders' database or by personal check via US mail. To pay by check contact the
registration
coordinator for instructions. Teams that do not pay their registration fees by May 11th will be dropped

New teams may asked to show proof of viability (ie picture or video of nearly complete robot) by May 11th.

Fees are non-refundable after May 18th. If you have registered, but cannot attend for any reason please contact the registration coordinator
.
Second Chase Registration

In the likely event registration limits are reach before your team has a chance to register please contact the
registration
coordinator to be placed on a waiting list. If any spots open up due to failure to meet registration requirements by May 11th a second registration window may be opened.
All HORD participants over 13 years old are required to have a ColossalCon day pass, ORC will be provided with a limited number of day passes for qualified personnel including; volunteers, robot drivers, pit helpers, and adults supervising participating minors. Teams will be guaranteed 1-1/2 passes per robot (rounded down), additional passes may be granted if there is a reasonable need for them and they are available (some teams may not use all the passes they are entitled to). To request additional passes please contact the
registration
coordinator.
If one or more of your robots fails to pass safety some or all of your team's day passes may be revoked
at the discretion of the registration coordinator.

Those wishing to watch HORD will need a ColossalCon full event day pass. If there is sufficient demand we may be able to provide group rate tickets for friends and family of HORD participants. Regrettably are not able to offer HORD only spectator passes.


Teams will need to fill out the ORC Safety Form and MC Cue Card for each robot attending. All [human] team members that will be in the pit area must complete a Release Form. Participants under the age of 18 must be accompanied by an adult.
If the supervising adult is not a legal parent or guardian please contact registration for special instructions
.
Please bring safety and Release forms with you to the event.
Cue cards need to be emailed to
registration
so they can be printed on the correct card size card stock.
Schedule
(all times are tentative and subject to change as needed)
Arena Setup:
Check & and Safety
Drivers Meeting

Fight Session 1
Break/Demo
Fight Session 2
Break/Demo
Finials / Rumbles

Awards
Clean Up;

Out the door;
6:00am - 7:00am
7:00am - 9:00am
9:00am - 9:30am

9:30am – 11:30pm
11:30pm - 12:00pm
12:00pm - 2:30pm
2:30pm - 3:00pm
3:00pm - 5:00pm

5:00pm - 5:30pm
5:30pm - 7:00pm

7:00pm
Please arrive at 7:00am with robots ready to safety and paperwork complete and ready to turn in. We plan having a small test box so we can safety two robots at a time. Pit space will be limited so teams with only one robot will have to share a table with another team.
We will be in the Cypress room which has a loading dock on the east side of the conversion center. When you arrive please drive directly to the Cypress loading dock to unload your equipment.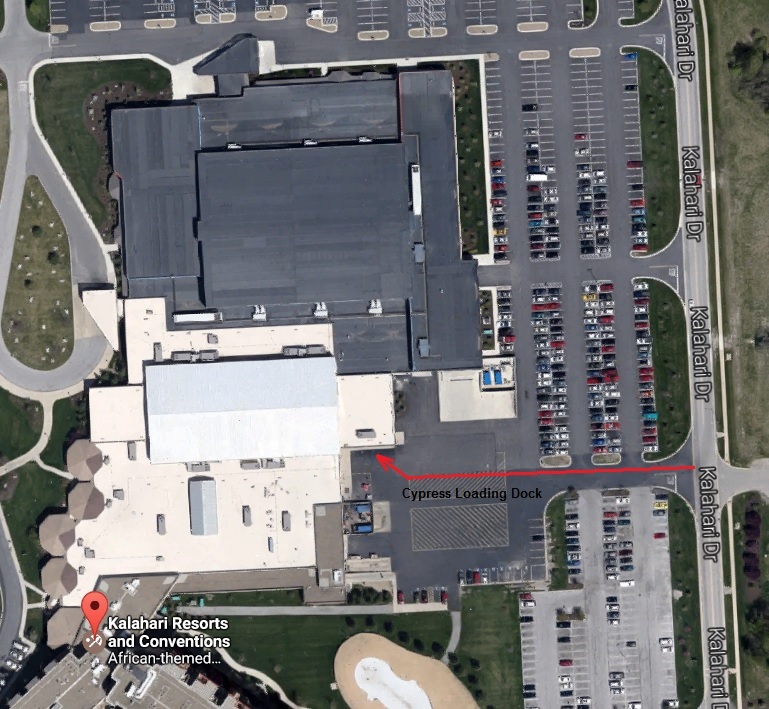 We absolutely have to be out of the room by 7:00pm.
Based on the number of robots expected and the time allotted we will need to average about one fight every 4-1/2 minutes this will require everyone doing their very best to ready for your next fight and to load and unload the arena as quickly as possible. Help setting up and tearing down the arena will be greatly appreciated.