Weight
Finish
Robot
Team
Team home
Flea
1
Little Buzz
Team Kelley
Bolling Springs
PA
Flea
2
0-2
Probotics
Omsted Township
OH
Flea
3
I.R.D.
Cloak & Dagger Robotics
Perry Township
OH












Ant
1
Dusty, The Evil Dustpan
Team Mechanical Advantage
Leawood
KS
Ant
2
HeMan I
Probotics
Omsted Township
OH
Ant
3
Pushover
Team Danger
Rushville
IN
Ant
4
Big Buzz
Team Kelley
Bolling Springs
PA
Ant
5
Jim
Foor
Independence
OH
Ant
6
Danger Zone
Team Mechanical Advantage
Leawood
KS
Ant
7
The Froogin
Fishnecks
Garrettsville
OH
Ant
8
Emmakins
Kick Bot and Relax
Madina
OH












Beetle
1
D2
D2
Brookpark
OH
Beetle
2
The Box
Team Kelley
Bolling Springs
PA
Beetle
3
Revenge of Dr. Super Brain
Cloak & Dagger Robotics
Perry Township
OH
Beetle
4
Tweedle Beetle
Dimension Robotics
Akron
OH
Beetle
5
The Rolling Pin
Team Kelley
Bolling Springs
PA
Beetle
6
UpTech
Fishnecks
Garrettsville
OH
Beetle
7
Snare
Team Mechanical Advantage
Leawood
KS
Beetle
8
chopchop
Team Danger
Rushville
IN
Beetle
9
Sweaver
Fishnecks
Garrettsville
OH
Complete Brackets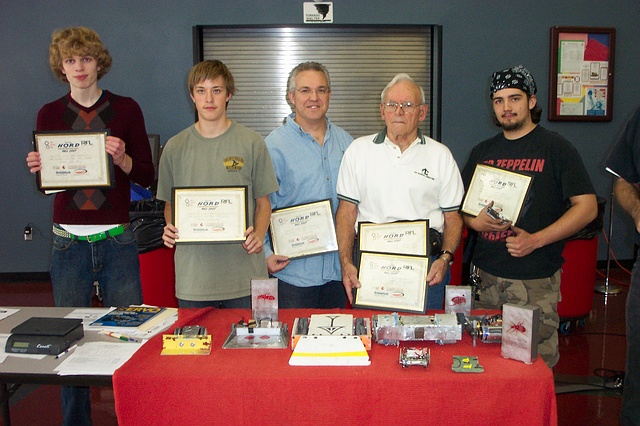 Drivers left to right:
Evan Gandola, Team Probotics.
Jeff Gier, Team Mechanical Advantage
.
Greg Shay, Team Fishneck.
Richard Kelley, Team Kelley.
David Timothy, Team D2.

Robots left to right: Heman I, Dusty the Evil Dustpan, Sweaver, The Box, Little Buzz, 0-2, D2

Flea Weight Champion
Little Buzz


Ant Weight Champion
Dusty, the Evil Dustpan


Beetle Weight Champion
D2

YouTube Videos
Dusty Vs Heman I
Snare Vs Sweaver
Event Summery
House of Robotic Destruction, Fall 2007 was held at the Cuyahoga Valley Career Center (CVCC) on Saturday Nov. 3rd 2007. This event helped kick off CVCC's new robotics program. Students in this program will be building ant weight robots for HORD Spring 2008. Several of these future robot builders attended this event as spectators.
Eleven teams brought a total of twenty robots; three Flea Weights, eight Ant Weights, and nine Beetle weights. Teams came from across
Ohio
as well as
Pennsylvania
. Also,
Team Danger came all the way from
Rushville
Indiana
; and, Team Mechanical Advantage flew in all the way from
Kansas
.
The Flea Weights were dominated by Little Buzz who managed four straight victories.
The Ant Weights were dominated by pushy bots Dusty, the Evil Dustpan, and Heman I who took first and second place respectfully.

However, drum bot Big Buzz scored several good hits as did the vertical spinning bar of Danger Zone before being knocked out of the tournament.


In the Beetle weight class, D2 tore a path of destruction through the ranks with its 1lb spinning drum.

Along his way to the championship D2 cashed with another drum bot, Rolling Pin, scoring a one hit victory that nearly took out both robots.

D2 then disarmed-literally-the dual flipper robot Revenge of Dr Super Brain.

Prior to this, Revenge of Dr. Super Brain tossed The Box around the arena like a rag doll.

The Doctor was unable to pit The Box, but did win a decisive judges decision.

The Box did manage to come back up through the losers bracket to face D2, but was pummeled by the big drum of D2.


In rumble action, five ants (Heman I, Dusty, the Evil Dustpan, The froogin, Jim, and Big Buzz.) fought tooth and nail.

In the end only Heman I was left standing to claim victory.

Also, six beetle (Sweaver, UpTech, D2, Rolling Pin, Tweedle Beetle, ChopChop) shook the arena as they clashed.

Sweaver alone survived the carnage and claim victory.
The ORC house bots (four heavy modified ant sized battlebot toys) came out to play and give a few spectators a chance to test there skill as robot driving.
First place drivers in each class received an engraved aluminum trophy.

Certificates were give to the first and second place finishers in each class as well as the rumble winners.

Several prizes donated by our sponsors were also awarded to top finishers.

Dimension Engineering provided, a Sabertooth dual 5A motor driver, a PicoSwitch, and an Easy Light.

Micro Bot Parts provided two micro receivers.

Also Servo Magazine donated twenty four copies of their September issue to hand out to teams and spectators.
The event was recorded by students of the CVCC Audio and Visual program. They are also producing a DVD which will be available some time in December. Copies can be obtained for a small fee. Interested parties should email ohiorobotclub@yahoo.com for more information.
Orc would like to thank all of our parliaments, sponsors, and host for helping put on such a great event. We hope to see you all again this spring..