House of Robotic Destruction, Spring 2007 (HORD) drew 14 robot teams with a total of 27 robots from the 150g (Flea Weight), 1lb (Ant Weight) and 3lb (Beetle Weight) classes.

The event was held in the parking lot of the Strongsville Hobbytown

USA

located at; 14785 Peal Rd,

Strongsville

, OH. 44136 and is owned by Steve Broz.

<>

HORD drew many teams from

Ohio

,

Pennsylvania

, and

Michigan

.

In addition, team Hockey Runner Robotics flew in with 5 robots from

Brentwood

,

Tennessee

; and team Apocalypse came all the way from

Mahwah

,

New Jersey

to enter their one robot.





Action started with 5 flea weight robots fighting a fierce round robin tournament.

Mr. Bigglesworth, and Buzzing flea, tied for first place.



Meanwhile in Ant Weight action, 11 robots battles through a double elimination bracket.

Dr. Super Brain's Lab Assistant rose to the top winning 5 straight matches.

Cupbot came in a close second, and Criminal Mastermind took third place.





Rounding out the event were 11 Beetle Weight robots fighting a pitched battle through a double elimination bracket. One Fierce Javelin came back from the loser bracket to claim first prize.

Can of Nuns came in second losing only to Javelin and The Box finished in third.





Prizes were provided for top two finishers in each weight class by microbotparts.com and DimensionEngineering.com

ORC would like to thank all team for coming and making this a great event. Also we would like to offer special thanks to Steve Broz and the Hobbystown USA staff for providing a place to play. Lastly our most sincere thanks to our wonderful sponsor for providing many fine prize for our winning teams.

We hope to see you all again at the next hord.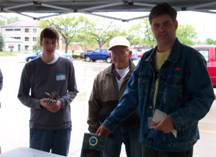 <> <>Left to right;
<>Alex Udanis, Plum Burg, PA.
driver: of Mr. Bigglesworth.
Richard Kelley, Boiling Springs, PA .
driver of Buzzing Flea.
Chris Olin, ORC chairman.


<>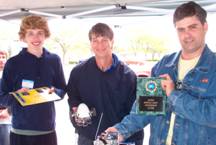 Left to right
Evan Gandola, North Omlsted, OH.
driver of Criminal Mastermind..
David Winek, Brentwood, TN.
driver of Cupbot.
Chris Olin, Perry Township Oh.
driver of Dr. Super Brain's Lab Assistant.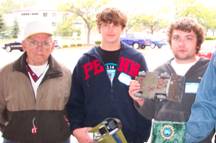 Left to Right:
Richard Kelley, Boiling Springs, PA.
driver of The Box
Gene Burbeck, Ann Harbor, MI. team Fierce Robots, driver of One Fierce Javelin.
Michael Winek, Brentwood, TN.
driver of Can of Nuns